SQUEAKY CLEAN MYSTERIES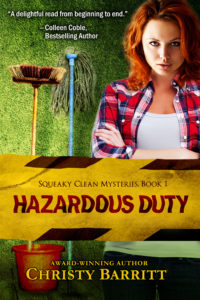 Gabby St. Claire dropped out of school on her way to completing a degree in forensic science. Instead, she did the next best thing: she started her own crime scene cleaning business. When a routine cleaning job uncovers a murder weapon the police overlooked, she realizes that the wrong person is in jail. But the owner of the weapon is willing to do anything to keep Gabby quiet. With the help of her neighbor, Riley Thomas, Gabby plays detective. But can Riley help her before another murder occurs?
---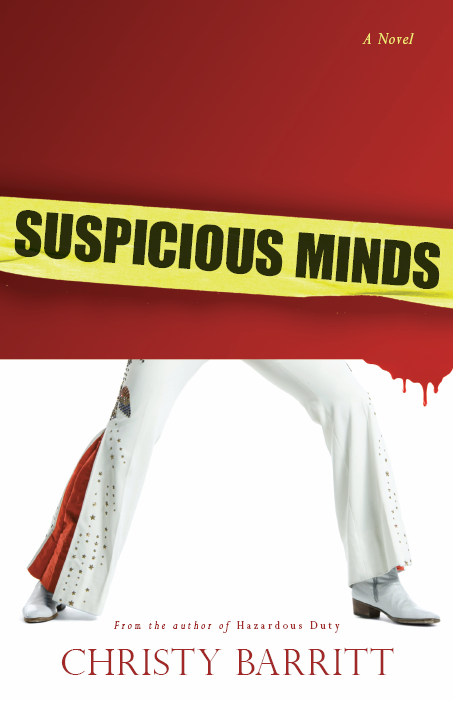 SUSPICIOUS MINDS (#2)
Rock and roll may never die, but the King is definitely dead . . . again. In this smart and suspenseful sequel to Hazardous Duty, crime-scene cleaner Gabby St. Claire finds herself stuck doing mold remediation to pay the bills. But her first day on the job, she uncovers a surprise in the crawlspace of a dilapidated home: Elvis, dead as a doornail and still wearing his blue suede shoes. How could she possibly keep her nose out of a case like this?
---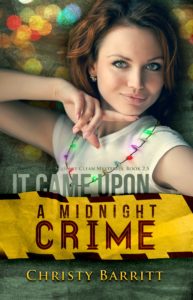 IT CAME UPON A MIDNIGHT CRIME (#2.5)
Someone is intent on destroying the true meaning of Christmas—at least, destroying anything that hints of it. All around crime-scene cleaner Gabby St. Claire's hometown, anything pointing to Jesus as the "reason for the season" is being sabotaged. The crimes become more twisted as dismembered body parts are found at the vandalisms. Who would go to such great lengths to dampen the joy and hope of Christ's birthday? Someone's determined to destroy Christmas . . . but Gabby St. Claire is just as determined to find the Grinch and let peace on earth and goodwill to men prevail.
---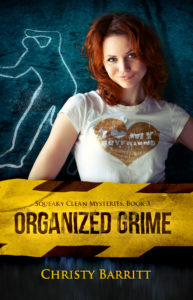 Gabby St. Claire knows how to clean up scum. She can get blood out of carpet, pick shattered bones from plaster, and clean up other less-than-enticing fluids from nearly any surface. St. Claire also knows how to clean up another kind of scum— the scum of the earth.
Crime scene cleaner and wannabe forensic investigator Gabby St. Claire knows her best friend, Sierra, isn't guilty of killing three people in what appears to be an ecoterrorist attack. But Sierra has disappeared, her only contact a frantic phone call.
Crime scene evidence Gabby discovers while cleaning ties seemingly random murders together—and points to Sierra as the guilty party. Just what has her animal-loving friend gotten herself into?
If that's not disturbing enough, who's the person following Gabby? A federal agent who hopes Gabby will lead him to Sierra? Or someone with more sinister plans?
To find Sierra and prove her innocence, Gabby will have to rely on all of her training and abilities, plus the help of a man she loves and the protection of a God she's only recently begun to believe in.
---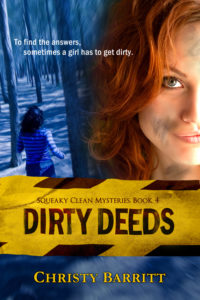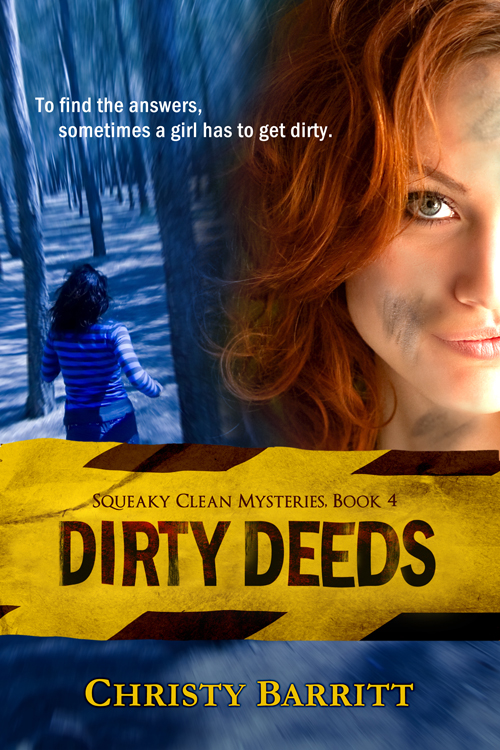 "Promise me one thing. No snooping. Just for one week."
Gabby St. Claire knows that her fiancé's request is a simple one that she should be able to honor. After all, Riley's law school reunion and attorneys' conference at a hoity-toity resort is a chance for them to get away from the mysteries Gabby often finds herself involved in as a crime scene cleaner. The weeklong trip is a chance for them to be "normal," a word that leaves a bad taste in Gabby's mouth.
But Gabby finds herself alone for endless hours while Riley is busy with legal workshops. Then one of Riley's old friends goes missing, and Gabby suspects one of Riley's buddies might be behind the disappearance. When the missing woman's mom asks Gabby for help, how can she say no?
Secrets abound. Frankly, Gabby even has some of her own. When the dirty truth comes out, the revelations put everything in jeopardy—relationships, trusts, and even lives.
---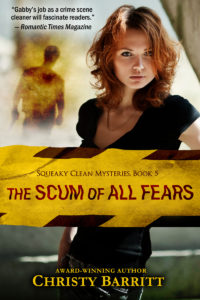 "I'll get out, and I'll get even."
Gabby St. Claire is back to crime-scene cleaning, at least temporarily. With her business partner on his honeymoon, she needs help after a weekend killing spree fills up her work docket. She quickly realizes she has bigger problems than finding temporary help.
A serial killer her fiancé, a former prosecutor, put behind bars has escaped. His last words to Riley were: I'll get out, and I'll get even. Pictures of Gabby are found in the man's prison cell, and Riley fears the sadistic madman has Gabby in his sights.
Gabby tells herself there's no way the Scum River Killer will make it across the country from California to Virginia without being caught. But then messages are left for Gabby at crime scenes, and someone keeps slipping in and out of her apartment.
When Gabby's temporary assistant disappears, Gabby must figure out who's behind these crimes. The search for answers becomes darker when Gabby realizes she's dealing with a criminal who's more than evil. He's truly the scum of the earth, and he'll do anything to make Gabby and Riley's lives a living nightmare.
---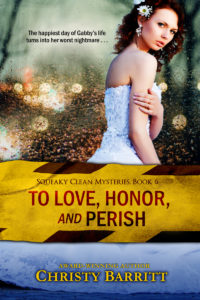 TO LOVE, HONOR, AND PERISH (#6)
How could God let this happen?
Just when crime scene cleaner Gabby St. Claire's life is on the right track, the unthinkable happens. Her fiancé, Riley Thomas, is shot and remains in life-threatening condition only a week before their wedding.
Gabby is determined to figure out who pulled the trigger, even if investigating puts her own life at risk. But as she digs deeper into the facts surrounding the case, she discovers secrets better left alone. Doubts arise in her mind and the one man with answers is on death's doorstep.
An old foe from the past returns and tests everything Gabby is made of—physically, mentally, and spiritually. Will her soul survive the challenges ahead? Or will everything she's worked for be destroyed?
---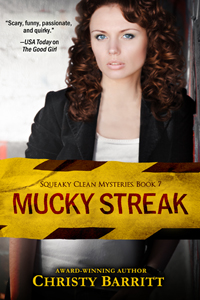 After her last encounter with a serial killer, Gabby St. Claire feels her life is smeared with the stain of tragedy. Between the exhaustion of trying to get her fiancé back on his feet, routine night terrors, and potential changes looming on the horizon, she needs a respite from the mire of life.
At the encouragement of her friends, she takes on a short-term gig as a private investigator: a cold case that's eluded investigators for ten years. The mass murder of a wealthy family seems impossible to solve but quickly gets interesting as Gabby brings more clues to light. Add to the mix a flirtatious client, travels to an exciting new city, and some quirky—albeit temporary—new sidekicks, and things get really complicated.
With every new development, Gabby prays that what she's calling her "mucky streak" will end and the future will become clear. But every answer she uncovers leads her closer to danger—both for her life and for her heart.
---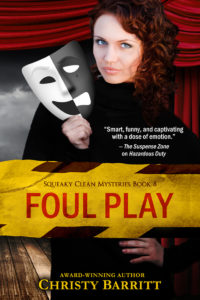 FOUL PLAY (#8)
Gabby St. Claire is crying foul play, in every sense of the phrase.
When crime scene cleaner Gabby St. Claire agrees to go undercover at a local community theater, she discovers more than backstage bickering, atrocious acting, and rotten writing. The female lead is dead and an old classmate who's staked everything on the musical production's success is about to go under.
In her dual role of investigator and star of the show, Gabby finds the stakes rising faster than the opening night curtain. She comes face to face with her past and must make monumental decisions, not just about the play but also concerning her future relationships and career.
Will Gabby find the killer before the curtain goes down—not only on the play, but also on life as she knows it?
---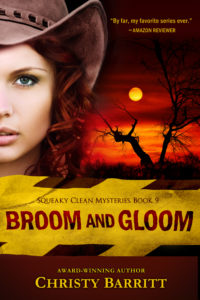 Broom and Gloom: Coming soon!
---
THE SIERRA FILES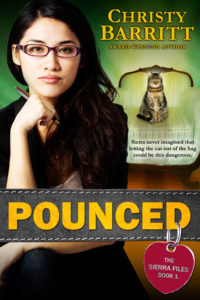 Sierra is used to fighting for the lives of innocent creatures. But when a killer puts the lives of her own cats on the line, her crusade becomes personal.
Animal rights activist Sierra Nakamura never expected to stumble upon the dead body of a coworker while out filming a project. She definitely never expected to get involved in the investigation. But when someone threatens to kill her cats unless she hands over the "information," she becomes more bristly than an angry feline.
Sierra knows that curiosity killed the cat, but she's determined that her snooping will ultimately save the lives of her furry friends. Making matters worse is the fact that her cats—and the investigation—are driving a wedge between her and her boyfriend Chad. With every answer she uncovers, old hurts rise to the surface and test her beliefs.
She also knows that if she lies down with dogs, she'll get up with fleas. Saving her cats just might mean ruining everything else in her life. In the fight for survival, one thing is certain: It's either pounce or be pounced.
*For fans of the Squeaky Clean Mystery series, this book takes place simultaneous to Dirty Deeds.
---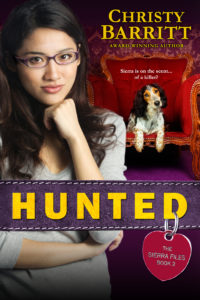 Hunted (Book 2)
Who knew a stray dog could lead to so much trouble?
Newlywed animal rights activist Sierra Nakamura Davis is coming face to face with her worst nightmare: breaking the news she eloped to her ultra-opinionated tiger mom.
Her perfectionist parents have planned a vow renewal ceremony at Sierra's lush childhood home, but a neighborhood dog ruins the rehearsal dinner when he shows up toting what appears to be a fresh human bone.
Between the dog, a nosey neighbor, and an old flame turning up at all the wrong times, Sierra hunts for answers. Surprises abound at every turn as Sierra embarks on a journey of discovery that leads to more than just who did the crime.
---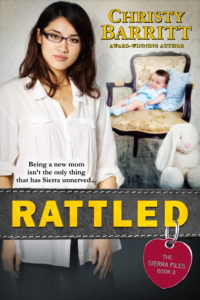 Coming in 2015: Rattled!
---
 SUBURBAN SLEUTH MYSTERIES
DEATH OF THE COUCH POTATO'S WIFE (#1)
Welcome to Boring, Indiana, home to patio cookouts, homeowner dues, carpeted lawns, and neighbors so welcoming they're dying to meet you — literally.
City slicker turned suburbanite housewife Laura Berry isn't taking well to life in her new neighborhood. She moved to follow her husband's dream, and now she can't tell if she's clinically depressed or just bored half to death. But Boring becomes anything but when Laura discovers her neighbor Candace Flynn face up on a sofa with her hand buried in a snack bag. With a healthy dose of neighborly suspicion and street smarts, Laura sets out to find Flynn's killer, but her curiosity becomes desperation when the killer targets Laura.
 Someone is determined to stop her from digging deeper into the murder, but Laura is just as determined to figure out who's behind the death-by-poisoned-pork-rinds.
---
HOLLY ANNA PALADIN MYSTERIES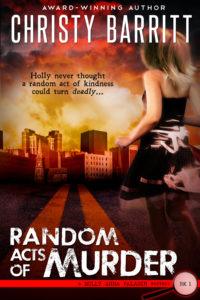 When Holly Anna Paladin is given a year to live, she embraces her final days doing what she loves most—random acts of kindness. But one of her extreme good deeds goes horribly wrong, implicating Holly in a string of murders. Holly is suddenly in a different kind of fight for her life.Only two other people know Holly was at the site of the murder, and one of them is the killer. Making matters stickier is the fact that the detective assigned to the case is her old high school crush and present day nemesis.The clocking is ticking as Holly is forced to play a dangerous game. Will Holly find the killer before he ruins what's left of her life? Or will she spend her final days alone and behind bars?