I just realized how terribly neglectful I've been to my website over the past two months. My apologies! The biggest piece of news I've failed to announce is that the first two books in my new Worst Detective Ever series have released! And book three releases in only a few weeks!
I've had such a good time writing about Joey Darling, an actress who leaves everything behind to find her dad. The series takes place on the beautiful Outer Banks of North Carolina. Keep reading for more information!
---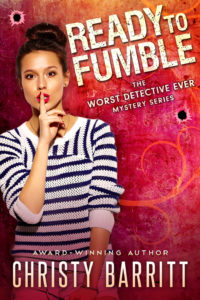 I'm not really a private detective. I just play one on TV.
Joey Darling, better known to the world as Raven Remington, detective extraordinaire, is trying to separate herself from her invincible alter ego. She played the spunky character for five years on the hit TV show Relentless, which catapulted her to fame and into the role of Hollywood's sweetheart.
When her marriage falls apart, her finances dwindle to nothing, and her father disappears, Joey finds herself on the Outer Banks of North Carolina, trying to piece her life back together away from the limelight. A woman finds Raven—er, Joey—and insists on hiring her fictional counterpart to find a missing boyfriend. When someone begins staging crime scenes to match an episode of Relentless, Joey has no choice but to get involved.
Joey's bumbling sleuthing abilities have her butting heads with Detective Jackson Sullivan and kindling sparks with thrill-seeking neighbor Zane Oakley. Can Joey channel her inner Raven and unearth whodunit before she ends up totally done in? And where is her father anyway? Can she handle fame, or is disappearing into obscurity the wiser option?
---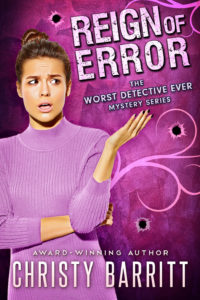 Reign of Error
Sometimes in life, you just want to yell "Take two!"
When a Polar Plunge goes terribly wrong and someone dies in the icy water, former TV detective Joey Darling wants nothing to do with subsequent investigation. But when her picture is found in the dead man's wallet and witnesses place her as the last person seen with the man, she realizes she's been cast in a role she never wanted: suspect.
Joey makes the dramatic mistake of challenging the killer on camera, and now it's a race to find the bad guy before he finds her. Danger abounds and suspects are harder to find than the Lost Colony of Roanoke Island. But when Joey finds a connection with this case and the disappearance of her father, she knows there's no backing out.
As hard as Joey tries to be like her super detective alter ego, the more things go wrong. Will Joey figure this one out? Or will her reign of error continue?
---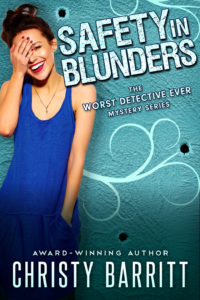 Safety in Blunders
Hollywood sweetheart Joey Darling's adventures and mishaps continue in the third book of the charming mystery series set in the Outer Banks of North Carolina.
My name is Joey Darling, and I'm a disgrace to imaginary detectives everywhere.
When actress Joey Darling discovers a mermaid tail with drops of fresh blood on it while hiking in a remote nature preserve, she knows something suspicious is going on.
As details surface, Joey realizes she's dealing with a problem she has encountered one too many times: someone desperate for fame who falls victim to a predator. With the help of her neighbor Zane Oakley and the opposition of local detective Jackson Sullivan, Joey hunts for answers, unaware of the deadly net in which she's about to entangle herself.
Joey knows she's a fish out of water when it comes to cracking cases, but can she use her talent—acting—to help find the missing woman? Or will Joey end up swimming with sharks?