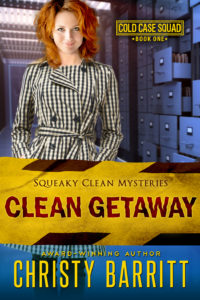 Gabby St. Claire Thomas has been given the opportunity of a lifetime: heading up a privately funded Cold Case Squad and handpicking the team members. Persnickety Evie Manson and nerdy Sherman Gilbert join forces with Gabby to bring justice and solace to families who still want answers.
On their first case, the Squad discovers that the murders of Ron and Margie Simmons are more than cold—they're frozen solid. The couple's anniversary celebration ended as a double homicide, and ten years later their daughter still longs for answers. But who would kill the loving couple? What kind of secrets hid beneath their cheery, All-American exteriors?
With every new lead, someone tries to sabotage their investigation . . . but the team might just end up being their own worst enemies. As a deadline presses in, can Gabby and her Squad bring the heat? Or will this cold-case killer make a clean getaway?